Dietitian
Our Registered Dietitian, Hannah Griswold, MS, RDN, LDN, CDE, can provide individualized nutrition education and counseling on various topics such as the following:
Weight maintenance, weight loss, or weight gain
Meal planning, general healthy eating, and an evaluation of current eating habits
How to read and understand nutrition facts labels
Food allergies, sensitivities, and restricted diets
Nutrition tips, meal plans, and guidelines for individuals with gastrointestinal disorders, diabetes, high cholesterol, high blood pressure and/or other chronic nutrition-related diseases
Nutrition presentations in-person and WebEx
Cooking demonstrations and culinary education (fees may apply)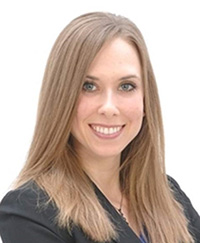 Hanna Griswold Contact Information:
Phone: 513-853-8900 to schedule, change or cancel an appointment
Phone: 513-853-8956 to leave non-urgent voicemail message
Email Hannah
What to Expect at Your First Visit:
When you meet individually with the registered dietitian, you will discuss your dietary needs while developing specific, measurable goals that fit your lifestyle. In order to provide you with the best care, the dietitian will collect some biometric information, such as body weight, and will conduct a 24-hour food recall. There's no need to alter your diet prior to meeting; Hannah will partner with you as you set reasonable goals.
As a Certified Diabetes Educator (CDE), Hannah has a comprehensive knowledge of and experience in diabetes prevention, prediabetes, and diabetes management. Professional practice experience and continuing education requirements allow Hannah to stay abreast of tools and resources she will pass along to those who meet with her to learn to manage blood sugar.
The GE Family Wellness Center is equipped with a state-of-the-art demo kitchen complete with the following:
Range with a hood
Oven
Dishwasher
Full-size refrigerator
Counter-top seating for 3
Plasma screen TV
Hannah will teach group and individual classes on preparing delicious and nutritious meals that fit your lifestyle. She can help you learn how to use a knife, transform your favorite recipes to be healthier without sacrificing taste, and teach you to efficiently plan and prepare quick, healthy meals that taste great.